Three Things I Learned from Writing a Book about My Dad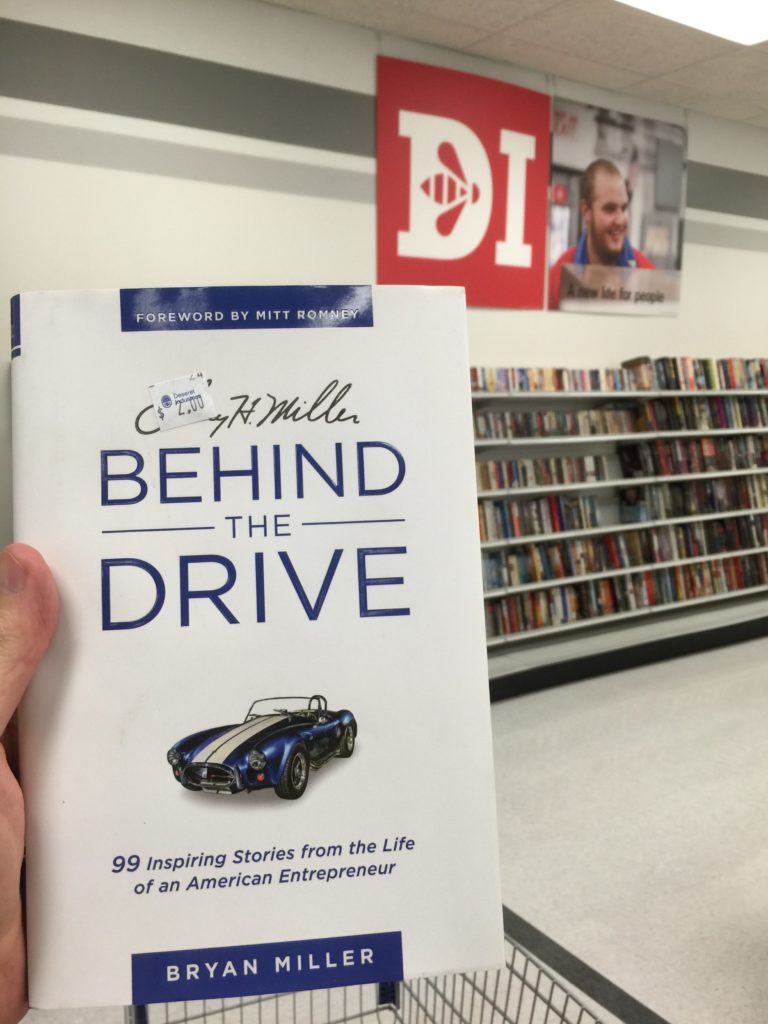 I started writing Behind the Drive: 99 Stories about the Life of an American Entrepreneur to preserve my dad's memory for our family and our family business, the Larry H. Miller Group. I knew there were many untold stories about him worth telling, and that if they weren't written down, they would get lost.
I'm a different person from the one who began the project, and not just because two years have passed from the time it began to the time it ended. I learned a lot during the course of writing this book and I thought it would be worth sharing those three lessons with you.
You decide what kind of person you want to be, and it matters.
About halfway through my dad's career, he hit a rough patch. A friend and counselor asked him, (quoting scripture), "Larry, what manner of man ought ye to be?" My dad pondered that question seriously, and it shows in the way he lived his last decades.
Early in this project, I began to notice patterns and themes in the stories I collected. The most prominent one is the theme of SERVICE. It's a thread that runs through every story. Every contributor tells of an act of service that Larry provided—perhaps something he taught them or advice he gave—some of which changed the course of a person's life or career. Other stories tell of acts of service my dad provided, many of which were simple, like personally delivering a car in a snowstorm. Others were more significant, like paying off a medical bill or a mortgage.
As I collected story after story of Larry's acts of service and consideration, it caused me to think about the kind of person I want to be, the kind of life I want to live and the way I want to be remembered. And that it all starts with a choice.
Life is brief, and it is precious.
From the outset of this project, I was aware of the brevity and preciousness of life. After all, Larry, its subject, passed away at 64 years old—before he even made it to the age of "senior citizen."
My appreciation of life's shortness grew deeper as the project unfolded. I saw it when I began calling potential contributors whose numbers I found in my dad's rolodex. There were a number that I didn't know personally, which is why I didn't know that some of them were deceased. Those were awkward phone calls.
I again saw how brief life is when two of the book's contributors passed away between the time I collected their stories and the time the book went to print. Governor Bangerter and Artoosh Hasratian, who shared an amazing story of a time that Larry loaned him $1.5M on a handshake, both died before they were able to see their stories published.
All of this reinforced the importance of protecting your health. Larry died of diseases that were highly treatable, if not preventable. Whoever said, "You don't know what you've got til it's gone" was probably talking about health and vitality.
Writing a book is challenging. And satisfying.
Writing a book is a lot like running a marathon: many people would like to have done it, but few actually want to do it. It's challenging, and no one does it alone. I had the help of so many contributors, and a small, talented team who helped with creative development, administration, editing and publishing. So yes, it's challenging. But it's also very rewarding.
One of my mentors, best-selling author Jack Canfield, talks about the value of writing a book this way:
"One of the biggest reasons I believe you should write a book is that it changes you. You learn. You grow. You become more confident. You get to explore things, and express things, and meet people. The journey is so incredibly rewarding. … Your book is also your legacy. It's something you leave behind which continues to serve people long after you are gone."
If you've been thinking about writing a book, go for it! The hardest part is getting started. The next hardest part is having clarity and generating and sustaining faith in yourself. But you can do it! And if I can help in any way, please let me know.
And if you haven't read Behind the Drive, I hope you'll do that too. Of course, I have pride of authorship, but I think you'll agree that it's an amazing collection of stories about an incredible man. I hope its stories of an ordinary man who achieved extraordinary things will inspire you to live your best life—a life of service, contribution and generosity of spirit.