How the Dalai Lama Inspired Me to Feed a Million People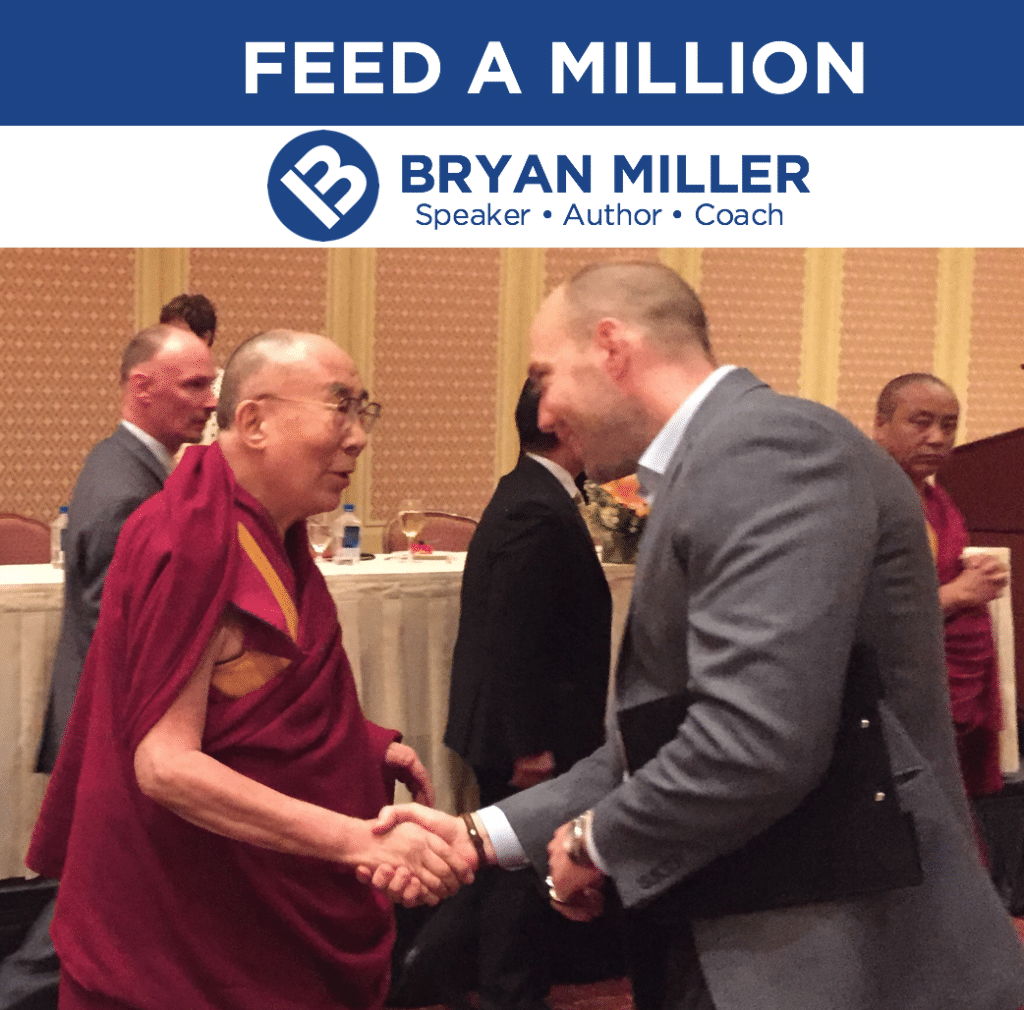 This week I had a unique opportunity to ask the Dalai Lama a question, and I decided to get his perspective regarding life purpose. I wanted to know whether he believes we all share the same purpose, or if we each have a unique and special purpose.
The Dalai Lama's response was simple: "Both." We are members of a community, he said, and our purpose is to cultivate a sense of community within that. Then, he continued, it's up to each of us to find our individual purpose within our professions or religious traditions inside that community.
Previously, the Dalai Lama has said, "the very purpose of life is to be happy." And if you've read any of his books or listened to him speak, you know that he frequently talks about cultivating compassion for others as the surest path to that happiness. "The more we care for the happiness of others," he says, "the greater is our own sense of well-being."
I found his insight surprisingly simple. In the workshops I host, I like to say that profound knowledge is often simple, but not easy. It's like the game Othello: it takes "A minute to learn… a lifetime to master!" I also teach that consciously committing your life to "Serving something greater than yourself" a crucial part of finding true and lasting happiness and fulfillment.
Making the commitment to serve something greater than yourself doesn't have to be some burdensome thing that feels like you're trying to save the whole world. (In fact, if it feels that way, I suggest that "you're doing it wrong.") Committing your life to something greater than yourself is the opposite of doing what George Bernard Shaw counsels against: being a "feverish selfish little clod of ailments and grievances complaining that the world will not devote itself to making you happy."
Serving can be an enjoyable experience that gives an empowering context for the work you do and the life you live. And it begins with your family, friends, neighbors, and the people you work with. It can be bigger, of course, and include your whole community, or something as broad as "the environment," "animals," a specific cause or a higher power.
It's with that spirit and understanding that I invite you to join me in a project I'm announcing today, the purpose of which is to provide a million meals to hungry people in America. Inspired by the Dalai Lama's words, and the 100 million meals Tony Robbins has already provided to America's hungry, I've committed to provide one million meals through a non-profit called Feeding America, the nation's largest domestic hunger-relief organization—a powerful and efficient network of 200 food banks across the country.
Whatever cause or purpose you commit your life to, I encourage you to consider Werner Erhard's words, "Decide on a project for which you are willing to take complete responsibility. Complete the project successfully. Relate this achievement to others as an inspiration for them. Your willingness to express yourself may be just the trigger needed by someone else to do something for themselves. From now on, don't wait for something to happen to you. Actually take responsibility for making something happen. Keep at it until you make it a successful experience for everyone. You can make the difference."
If you would like to contribute to the project I've started to provide a million meals to hungry people in America, you can donate here. Donations are to a 501(c)(3) and are tax-deductible. If you have questions, thoughts, or suggestions about ways to reach this goal, please contact me via Facebook or at BryanMiller.com/Contact
You, my friend, can make the difference.