Not More Time, More Commitment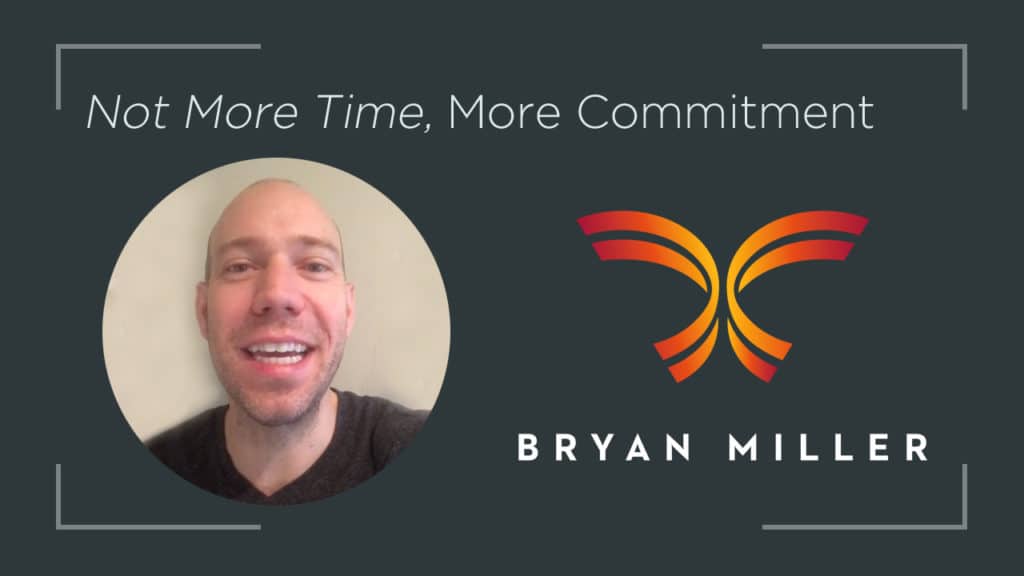 Is there an area in your life that needs more commitment rather than time?
---
Subscribe to the Bryan Miller YouTube Channel
Not More Time, More Commitment
on the Bryan Miller YouTube
---
– – – – – – – – – – –
Video Transcript:
– – – – – – – – – – –
Hello, my friends. It's Bryan here.
It's Thursday morning. Today I'm headed out of town. I'm going to go Memphis Tennessee. I'm going to spend a little bit of time in McMinnville at the Isha Institute. I'll be learning a bit more about mindfulness and presence and that kind of thing.
But enough about me. Let me share something with you that I hope is of value to you. By the way, I do look forward to sharing some of what I learn or experience there when I come back. I want to share something with you today that's had an impact on me by the guy who created the place that I'm going to visit; a man named Sadhguru.
He taught a principle of meditation that calls for meditation twice a day. Every morning. Every night. When he taught it, one of the people who learned it from him said, what if we don't have time? What if we don't have time to do the meditative process that you've taught us exactly like you've taught us? Can we modify it? Can we skip it one day? Can we do something else?
I loved Sadhguru's response. He paused. He smiled a little bit. He responded by saying, "You don't need more time, you need more commitment."
I thought that was such an awesome response that I felt like he was talking exactly to me. From the time that he shared that, with me back in May, that was May 5th, I will acknowledge myself and pat myself on the back a little bit for saying that I haven't missed a single day of meditation using this technique since that time. It's been about four months. Every morning. Every night. Whether I wanted to or not to maintain the discipline.
I have experienced some incredible peace in my life and clarity. But that's not the point of what I wanted to share with you. What I wanted to share was this idea of where in your life is it that it's not that you need more time, it's that you need more commitment.
I'll talk to you soon. — Bryan Miller